The Hunt for an Evil Spirit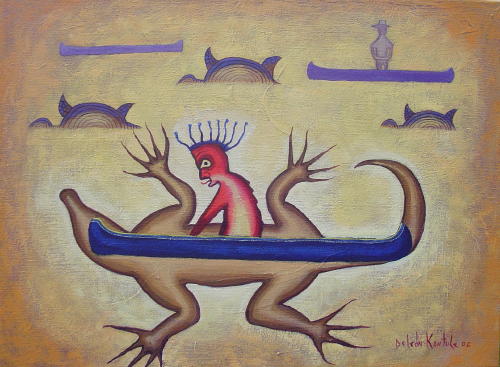 This is an acryic painting by the Kuna visual artist Oswaldo DeLeón Kantule.
Dimensions: 18 x 24 inches
Starting bid: $500 USD
100 % of the funds received for this painting will be donated to the communities of Piria and Miria Ubgigandup, devastated by fires in December, 2006. The closing date of the auction is January 30, at 11pm Eastern Standard Time. Details of bids will appear on this page and be sent by email to anyone who makes a bid.
For more information or to make a bid, send an email to: achu@deleonkantule.net
Please include:
-Your full name

-Your email address and telephone number

-The amount of your bid

-A pseudonym if you wish to remain anonymous to other bidders
Financial donations may also be made by Paypal or by money order sent to:
Oswaldo DeLeón Kantule
41 Breton Park Crescent
London, ON N5W 1N2
Canada
Tel: (519) 878-7706
Nuedi! - Thank you! - Gracias!
< < < < Return to the page about the fires