Oswaldo DeLeón Kantule - "Achu"
Sobet - Artista Visual - Visual Artist
About the Artist
Oswaldo DeLeón Kantule (also known as "Achu") was born in Ustupu, Kuna Yala, Panama. He began painting (self-taught) in the 1980's. He is a graduate of the Faculty of Fine Arts of the University of Panama. He has exhibited his work in Panama, Cuba, Canada, France, El Salvador, Guatemala, Mexico, and the USA , and his paintings are in private collections in Panama, Cuba, Spain, France, Canada, Germany, Great Britain, Belgium, Portugal, and Argentina.
In 1996 Oswaldo won First Prize in the National INAC Painting Competition (Panamanian National Institute of Culture), and he was invited to participate in the Sixth Biennial Art Competition of Panama in June of 2002. In 2004 he received a grant to participate in the Smithsonian Institution's Visiting Artist Program in Washington, D.C.
In 2008, Oswaldo was awarded the Visual Arts prize at the 2nd Biennial of Indigenous Art in Quito, Ecuador. Two of his pieces have been acquired by the Macdonald Stewart Art Centre in Guelph, Ontario, for their permanent collection. Since 2007 he has curated several shows of Latin American art.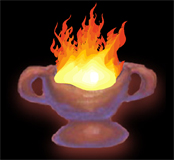 ©2008 Oswaldo DeLeón Kantule web design AlSan